Facebook envisage de créer sa propre ville
1 août 2017 | Partager l'article sur
1 min de lecture
Les sièges sociaux de taille gigantesque de Facebook vont dorénavant faire place à une autre forme d'architecture : une ville !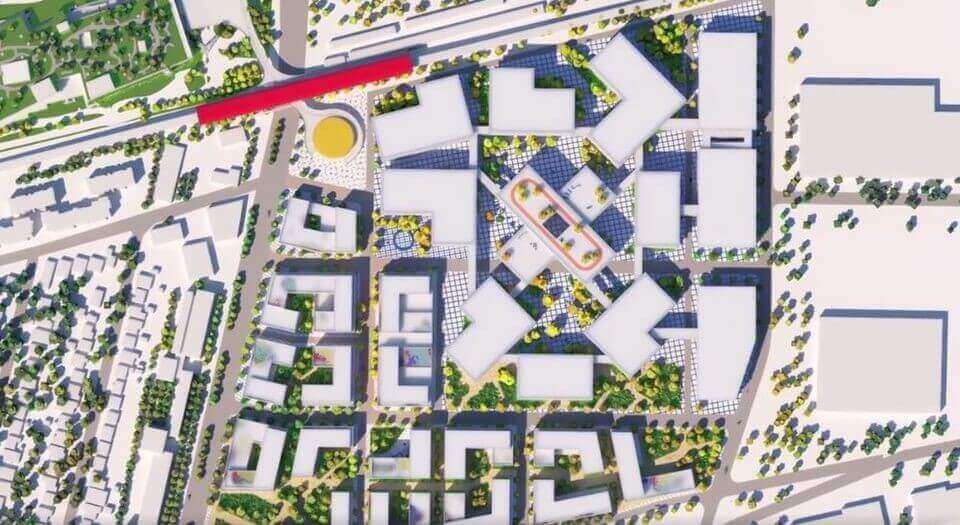 Vous aviez peut-être déjà entendu parler de ce projet fou ? Il est en effet, à l'étude depuis maintenant quelques années. Il est dorénavant plus réel que jamais, suite à une vidéo diffusée par le géant du web Mondial Himself.
Le nom « Campus Willow » a même été annoncé ! Ce projet est prévu à l'endroit du siège existant, à Menlo Park dans la banlieue proche de San Francisco.
Investing in Menlo Park and the Community

We found a home when we moved to Menlo Park in 2011. We are part of this community, and being here makes it possible for us to work on our mission to bring the world closer together. That's why we plan to keep investing in this community. When we first expanded beyond our original campus, we looked no further than across the street. Frank Gehry helped us design that building, which we call MPK20. Our presence has expanded further since then, and we are now planning to redevelop the former Menlo Science & Technology Park which we intend to call Willow Campus. Working with the community, our goal for the Willow Campus is to create an integrated, mixed-use village that will provide much needed services, housing and transit solutions as well as office space. Part of our vision is to create a neighborhood center that provides long-needed community services. We plan to build 125,000 square feet of new retail space, including a grocery store, pharmacy and additional community-facing retail. The first official step will be the filing of our plan with Menlo Park in July 2017. We will begin more formal conversations with local government officials and community organizations over the course of the review process, which we expect to last approximately two years. We envision construction will follow in phases, with the first to include the grocery, retail, housing and office completed in early 2021, and subsequent phases will take two years each to complete. Housing is also critically important to these efforts. We hope to contribute significantly to the housing supply by building 1,500 units of housing on the campus, 15% of which will be offered at below market rates. This added on-site housing should also mitigate traffic impacts from growth. These efforts complement our ongoing work to address the issue, including the Catalyst Housing Fund for affordable housing we established in partnership with community groups to fund affordable housing for our local area. The fund was initiated last year with an initial investment of $18.5 million that we hope will grow. The region's failure to continue to invest in our transportation infrastructure alongside growth has led to congestion and delay. Willow Campus will be an opportunity to catalyze regional transit investment by providing planned density sufficient to support new east-west connections and a future transit center. We're investing tens of millions of dollars to improve US101. Construction will generate an array of jobs, and we're planning to help local workers access those opportunities. The site will be developed in two phases designed to bring office, housing and retail online in tandem. Our hope is to create a physical space that supports our community and builds on our existing programs. We've hosted tens of thousands of community members at farmers' markets and events, and partnered with nonprofits like Rebuilding Together Peninsula to rehabilitate local homes. We've also enrolled local high school students from East Palo Alto, Belle Haven and Redwood City in our six-week summer internship program. This is only the beginning. Going forward, we plan to continue to work closely with local leaders and community members to ensure Facebook's presence is a benefit to the community. It's one we're lucky to call home. Our design partner in imagining the campus is OMA New York. We have worked with them to prepare a video describing our vision and hope for integrating more closely with our community.

Publié par Facebook Community sur jeudi 6 juillet 2017
Une ville comme une vraie… ville ?
Facebook aurait déjà pensé à tout, en passant par les épiceries, les pharmacies, les commerces, le tout sur plus de 11600 mètres carrés de surface commerciale.
Une ville qui comprendra aussi des logements « plus abordables », des lignes de transports, des bureaux et des services qui vont permettre de créer une véritable vie de quartier.
L'étude du village devrait prendre 2 années, la construction se fera ensuite par étapes, détaillées dans la vidéo ci-dessus.
Une première étape comprendra la mise en place de l'épicerie, la vente au détail et les logements. Les bureaux seront effectifs en 2021 et la conclusion de tout le projet en 2023.
Une stratégie d'expansion qui n'est pas sans nous rappeler le paternalisme industriel des XIXe et XX siècles et les cités ouvrières françaises, en espérant que l'histoire ne se répète pas…
Partager cet article